Oucho T. Cactus was a puppet cactus that was a Co-Presenter with Ed Petrie until late 2009, where Oucho was replaced by Chris Johnson.
Oucho T. Cactus is Ed Petrie's puppet companion, operated and voiced by Warrick Brownlow-Pike. Oucho speaks in the language "Cactinian" and his favourite food is bananas. He fears dogs, lawnmowers, water, Basil Brush and Anne Robinson. He has an unashamed love of Dolly Parton Oucho often dresses up in a blonde wig and mimes to her music. Oucho says he's from Bracknell.
Oucho left CBBC in January 2010, according to CBBC as he was going to be working in another office at the BBC. This was because his puppeteer Warrick Brownlow-Pike was leaving the channel to film for BBC 3, although he returned to puppeteer Dodge the Dog, temporarily retiring Oucho until further notice.
Ed Petrie and Oucho were briefly reunited on TMi on November 26, 2010, their first appearance together since January.
He has since made various cameo appearences in sketches and in CBBC Extra.
Lots of info taken from wikipedia.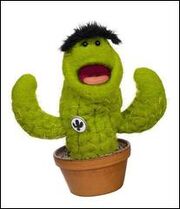 Community content is available under
CC-BY-SA
unless otherwise noted.